In collaboration with St. Louis Area Food Bank and others, CAASTLC provides USDA commodities and nutritious food items to individuals and families needing help. Our application process and food distribution are contact free.
Our Food Pantry is open Tuesday, Wednesday and Thursday from 9:00 a.m. to 12:00 p.m. A household can receive food assistance every 30 days if necessary, for a maximum of 12 times per year.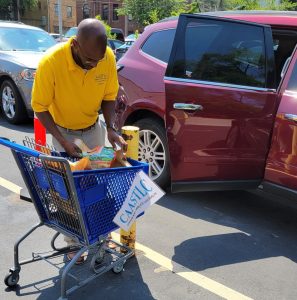 Food Pantry Income Eligibility Requirements – Household income may not exceed 125% of the federal poverty guidelines.
Size of Family Unit
Monthly Income
Annual Income
1
$1,519
$18,225
2
$2,054
$24,650
3
$2,590
$31,075
4
$3,125
$37,500
5
$3,660
$43,925
6
$4,196
$50,350
7
$4,731
$56,775
8
$5,267
$63,200
For families with more than 8 members, add $6,425 for each additional person